I am very pleased to welcome you on my website!
The latest updates are now online, stay tuned! (from 18/02/2022)

We can finally perform for full halls now in The Netherlands (!) and traveling abroad for concerts is getting easier and easier, so I have great projects coming up soon!
It was fun to play for the TV program Maestro during this last lock-down, but there is nothing like performing for live audience and connect with the public!
-I am particularly excited about my next solo concert in the beautiful OBA Oosterdork in Amsterdam, in collaboration with the « Institut Français des Pays-Bas »! It will happen on May 13th 2022, at 17.00, together with the French illustrator/cartoonist Vidu! It is a unique concept of illustrated concert/live drawing concert; a performance of 45 minutes, in which Vidu will create a comic book live to the rhythm and colours of my musical journey. It is a unique way of building bridges between two art forms, by allowing them to enter into a dialogue and create an original and improvised live performance. I will be performing 10 challenging solo pieces from the flute repertoire, from baroque to modern. (Marin-Marais, Telemann, Debussy, Honegger, Paganini, Varese,…). Come listen and watch if you are curious!
check www.institutfrancais.nl and www.oba.nl for more information.
– My first CD recording project is in the making!!!! And it is very exciting! You will know more soon …
-I was invited as solo flutist to perform the production « Sleeping beauty« ( conductor: Robertas Servenikas) and « Rigoletto »  (conductor: Karel Mark Chichon) at the Zürich Opera House (Philharmonia Zürich) over the months of April and June 2022.
Check details, dates and tickets on: www.opernhaus.ch and www.philharmonia-zuerich.ch
-I will also be back to Switzerland to play two amazing concerts with my modern ensemble Collegium Novum Zurich in May and June 2022! The first one on 23rd May 2022, « Diese-r da bin rich! » , collaboration Collegium Novum Zurich and Orchestra la Scintilla, conductor: Tito Ceccherini. The second concert will take place on Saturday June 11th 2022, in the Tonhalle Zurich, « The Nocturnal gregarious wild swine » (Varese, Crawford, Zappa, van Eck).
check for more info and tickets on: www.cnz.ch
-Great ballet productions of « Made in Amsterdam » ( a program including two world Premieres ) and « Raymonda » (New production, Pemiere in Amsterderdam, with the fantastic Russian conductor Boris Gruzin) coming up with the Dutch National Ballet in Amsterdam Opera February, March and April 2022! (in which I will, as usual play, as solo flute with Het Balletorkest).
check www.operaballet.nl and www.hetballetorkest.nl
-I am very happy to show you the result of a rather original photoshoot with my friend and colleague dancer Sandra Quintyn, by the talented photographer Altin Kaftira, in beautiful Amsterdam! Check it out in the gallery!
-Interview by Marion Schopman in the summer issue of « FLUIT« , the dutch Flute magazine from NFG (July 2020), check it out if you can read dutch and get your copy! Look who is on the cover…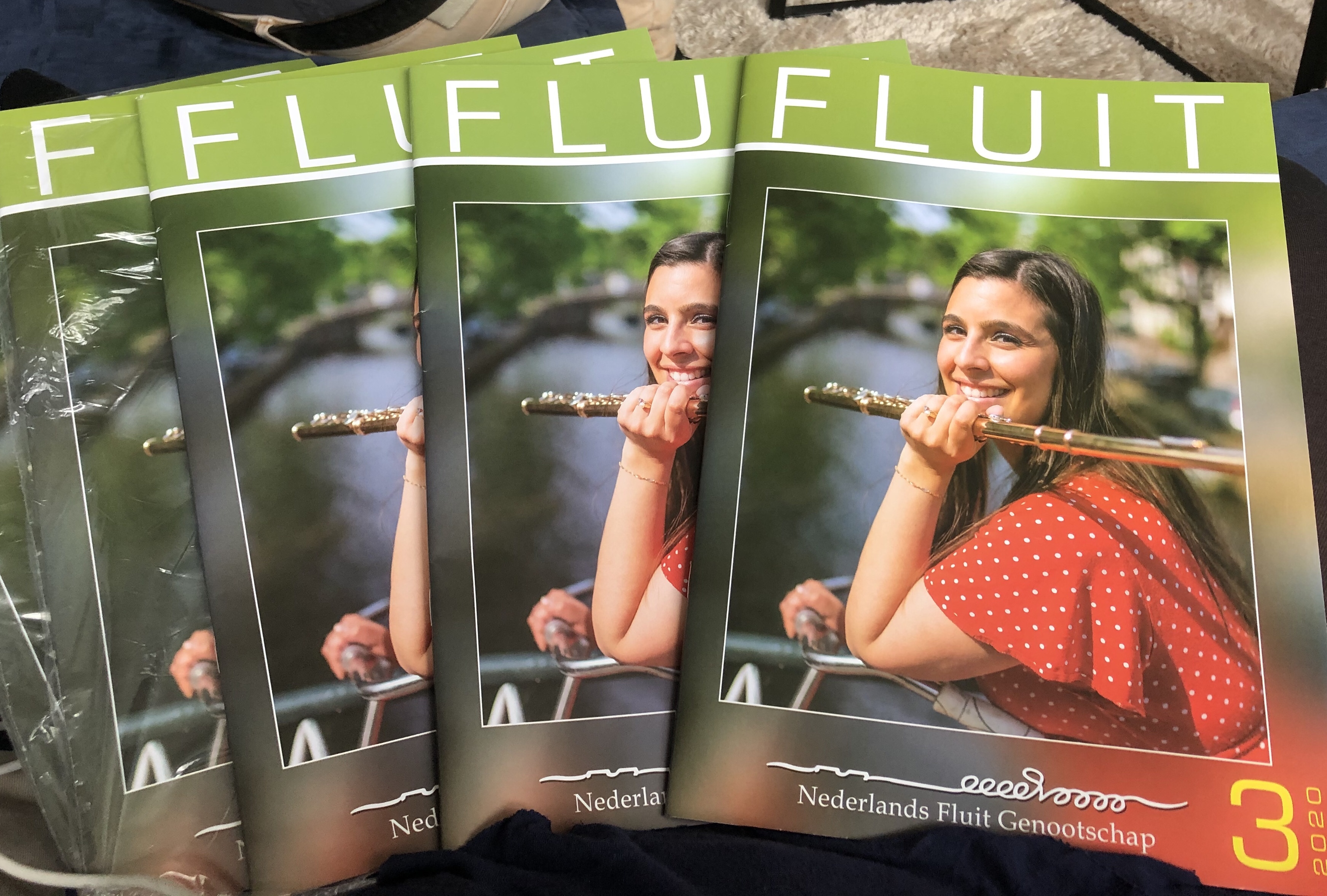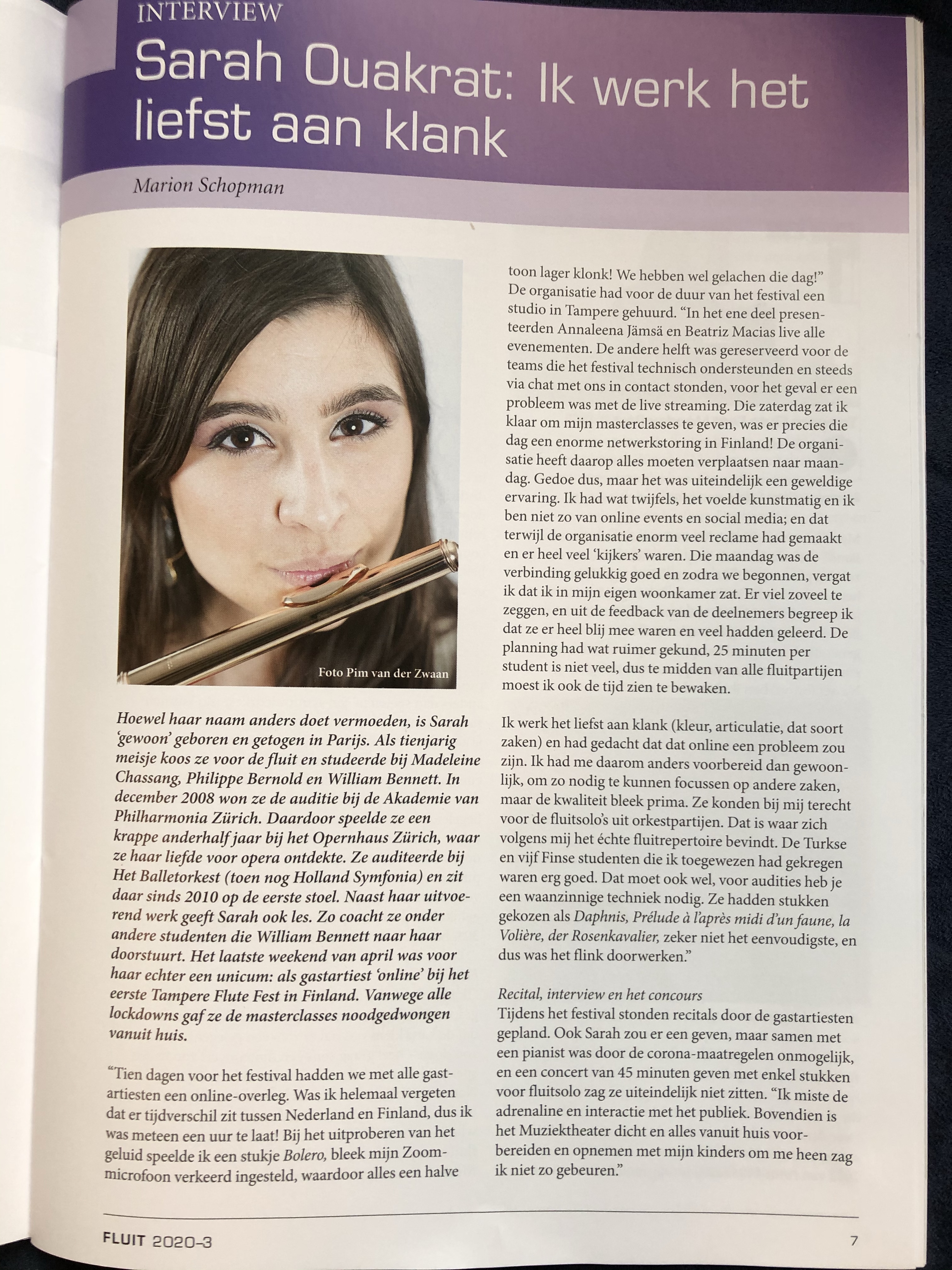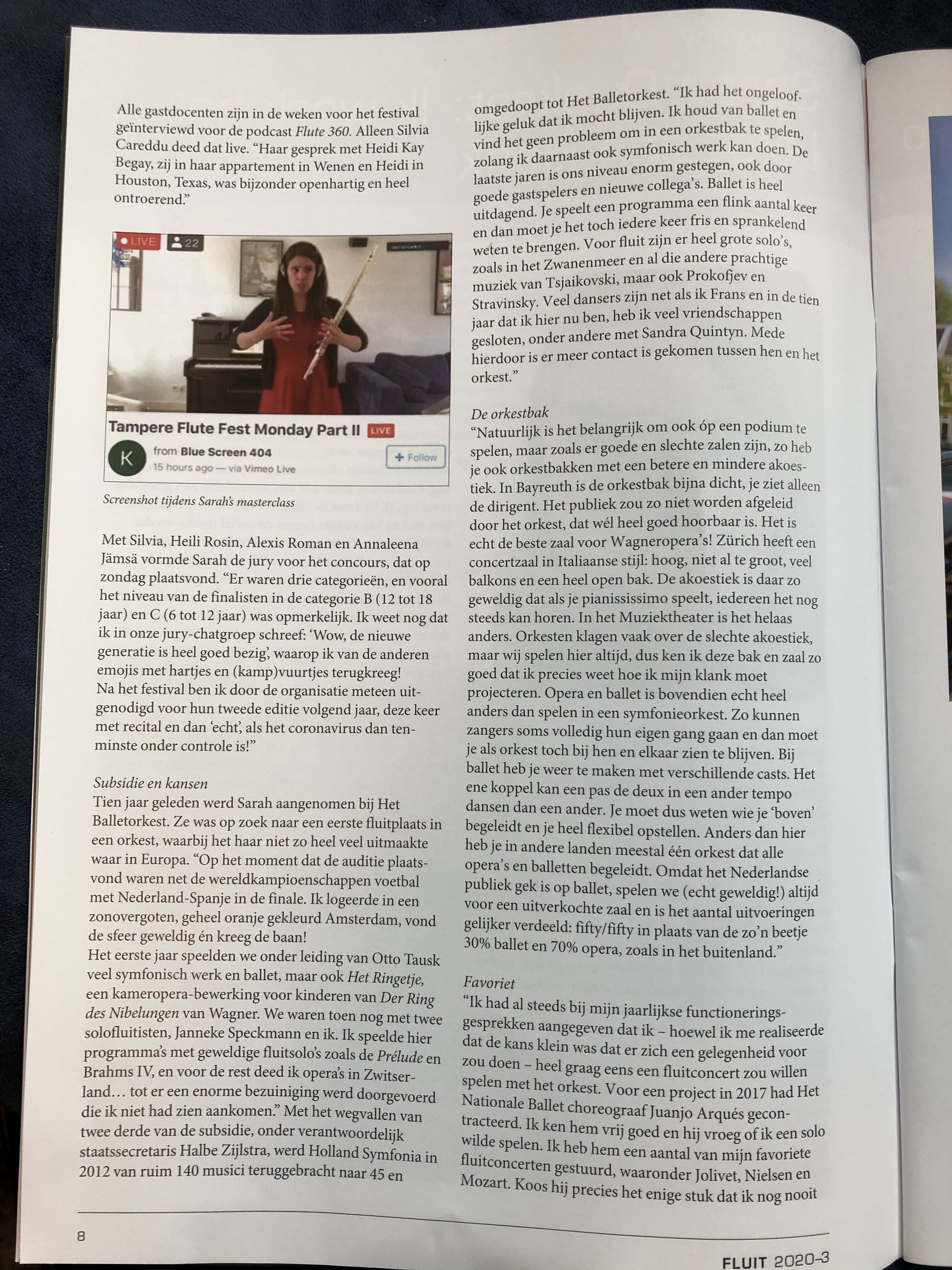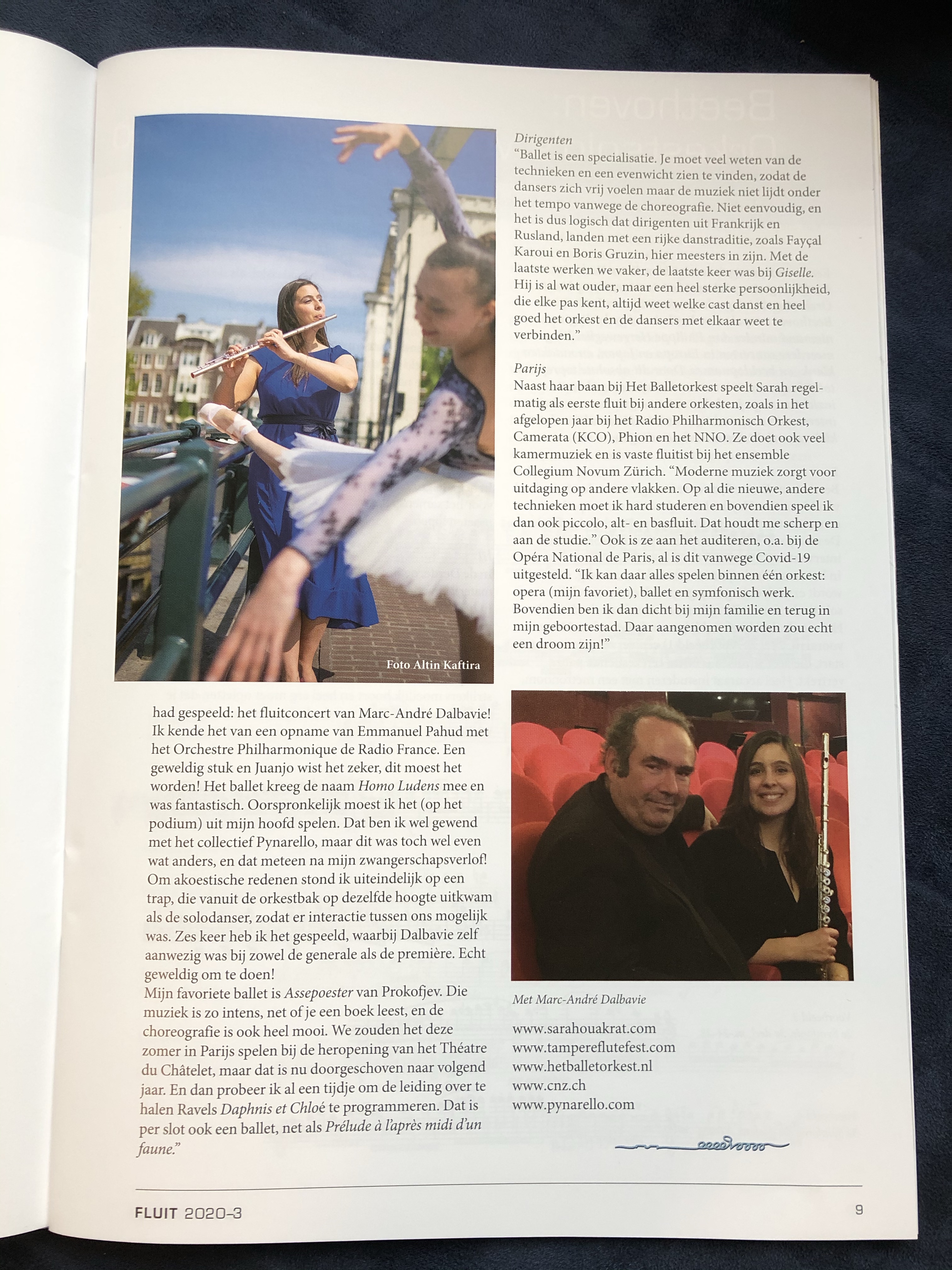 -such a pity that the Beethoven Patchwork Symphony tour with Pynarello was canceled in January 2022 due to corona measurements, but new projects will come soon!
–Online lessons available from now on, do not hesitate to contact me through the contact form!